MinIO Operator Console
The Operator Console provides a rich user interface for deploying and managing MinIO Tenants on Kubernetes infrastructure. Installing the MinIO Kubernetes Operator automatically installs and configures the Operator Console.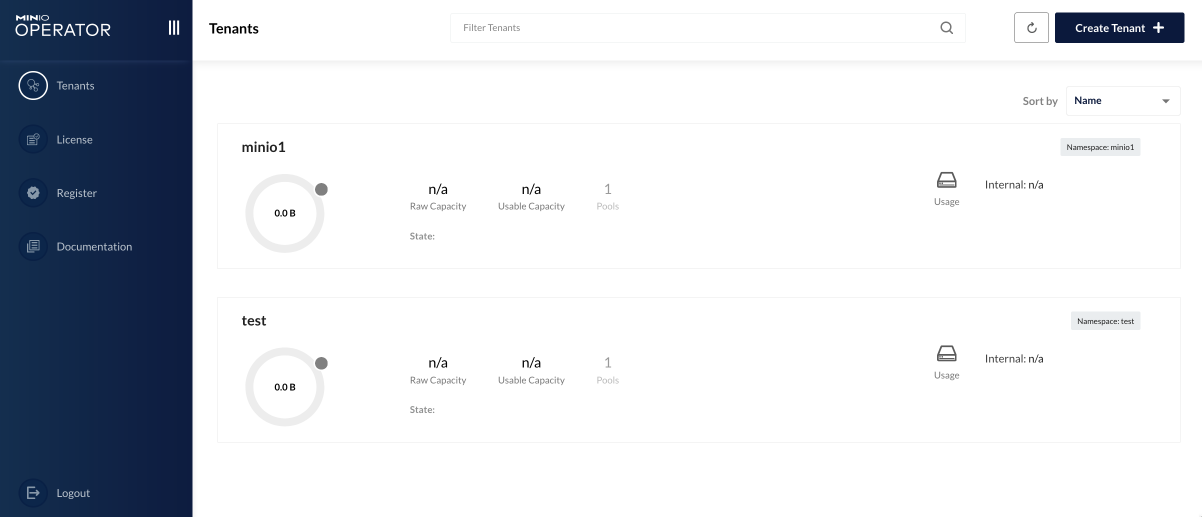 This page summarizes the functions available with the MinIO Operator Console.
Use the kubectl minio proxy command to temporarily forward traffic between the local host machine and the MinIO Operator Console:
The command returns output similar to the following:
Starting port forward of the Console UI.

To connect open a browser and go to http://localhost:9090

Current JWT to login: TOKEN

Open your browser to the specified URL and enter the JWT Token into the login page.
The MinIO Operator Console supports deploying, managing, and monitoring MinIO Tenants on the Kubernetes cluster.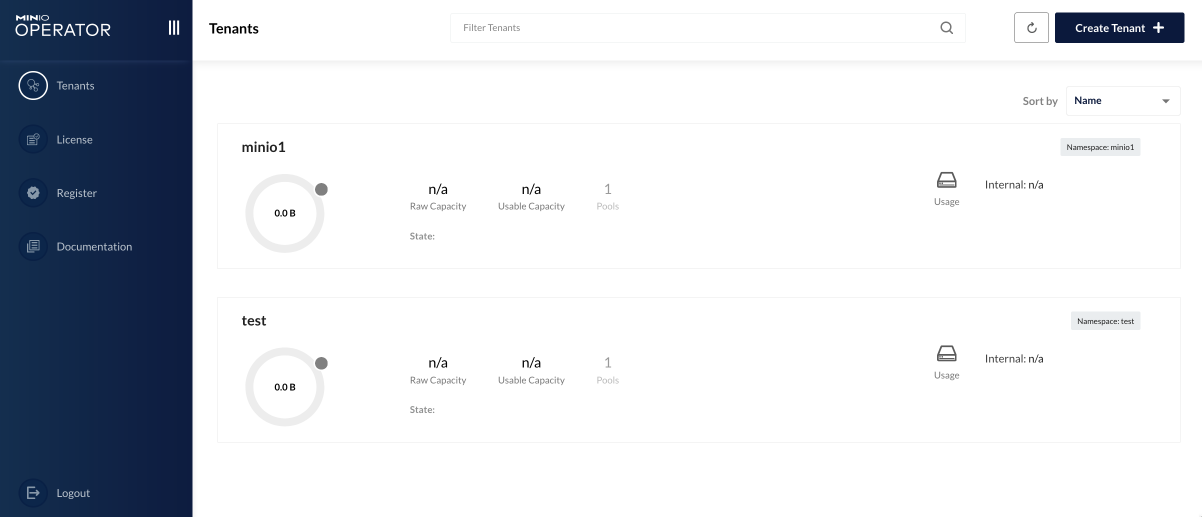 You can deploy a MinIO Tenant through the Operator Console.
The Operator Console automatically detects any MinIO Tenants deployed on the cluster, whether provisioned through the Operator Console or through the MinIO Kubernetes Plugin.
Select a listed tenant to open an in-browser view of that tenant's MinIO Console. You can use this view to directly manage, modify, expand, upgrade, and delete the tenant through the Operator UI.
Changed in version 0.19.5: You can register your MinIO tenants with your MinIO SUBNET account using the Operator Console.
Select the Register tab

Enter the API Key

You can obtain the key from MinIO SUBNET through the Console by selecting Get from SUBNET.
To review which license you are using and the features available through different license options, select the License tab.
MinIO supports two licenses: AGPLv3 Open Source or a MinIO Commercial License. Subscribers to MinIO SUBNET use MinIO under a commercial license.
You can also Subscribe from the License screen.